Are you cleaning out your garage this weekend and need a temporary dumpster for all that extra waste? Or maybe you are the general contractor for a large construction project and need multiple construction dumpsters on site. Whatever your cleanup / temporary / construction dumpster needs, Arrowaste can help! Arrowaste is proud to offer everything from small 6 cubic yard cleanup dumpsters (approximately two pickup truck loads) all the way up to massive 40 cubic yard construction dumpsters.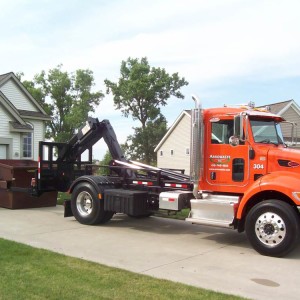 Whether you're doing home cleaning, or a whole remodel, our temporary dumpsters are for you. We have sizes to fit every project to ensure that you aren't overpaying for your dumpster. You can find an illustration of the different sizes offered below and their corresponding dimensions to further ensure you get the right size for your job.
You will receive quick service from experienced drivers and dumpster delivery right to your home. Just call when the dumpster is full or schedule your dumpster pickup in advance.
You can request a quote online, or if you would like to speak with a representative we are happy to help and assess your needs. To learn more about other residential services offered, you can click here.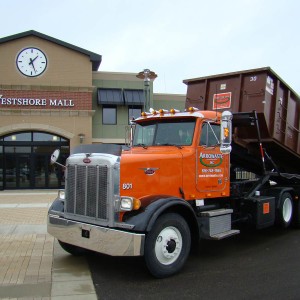 Beyond serving temporary dumpster to residential customers, we also service many businesses and contractors. From a business remodel to new construction, we can set up service to match your needs. You can request a dumpster online, or you can call and speak to a representative about your needs.
Rental period is typically 14 days, however, additional time can be added if needed. With a large fleet of roll off trucks, your dumpster project will receive quick service from experienced drivers.
Arrowaste also has LEED project experience. Click here to visit the USGBC West Michigan Chapter to learn more about LEED certification and the impact it has on your project!
To learn more about other commercial services offered, you can click here.
TIPS FOR PREPARING FOR YOUR DUMPSTER