From manufacturing facilities to restaurants, we provide our commercial customers with a cost-effective waste disposal plan that fits their unique situations and waste streams. Our solid waste disposal, organic waste disposal, and cardboard recycling capabilities, paired with our wide variety of container sizes and configurations allows our account managers to develop a commercial waste strategy that is environmentally responsible, cost-effective, and precisely what our customers need.
We provide our commercial customers with seamless service and flexible scheduling of regular service, in addition to responsive extra service requests. Contact us today and one of our account managers will meet with you to evaluate your waste streams and discuss your options.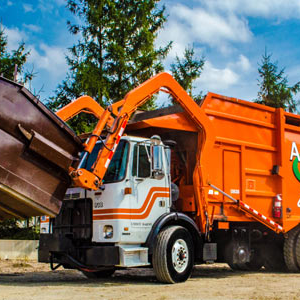 Arrowaste provides businesses with an easy solution to their waste needs. One of our account managers will speak with you first hand to figure out the best waste program for your specific business. We won't nickel and dime you, we will make that program around your needs and nothing else. Call or request a quote today and one of our crew members will be in contact shortly to help assess your needs.
Some helpful tips:
– Your service can easily be increased or decreased if needed
– The 2 yard container offers wheels for easy moving
– We offer container locks to ensure that no one is digging or using your container without your permission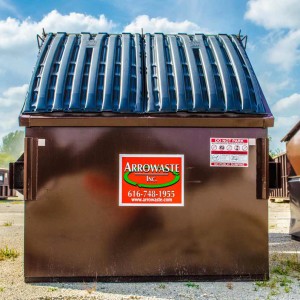 Arrowaste provides their very own commercial recycling program. We are the perfect solution for businesses that generate consistent volumes of cardboard, newspaper, office paper, plastic containers, and tin and aluminum cans. Even if it is an inconsistent amount, we can craft a recycling program to fit your needs.
Containers are available in many different sizes to fit your specific business needs. Our recycling containers are marked with a bright orange Arrowaste sticker, making it hard to miss. You can call or request a quote today, and we will set you up with an account manager to accurately assess your needs.
To learn more about what you can and cannot recycle, you can find our recycling page here.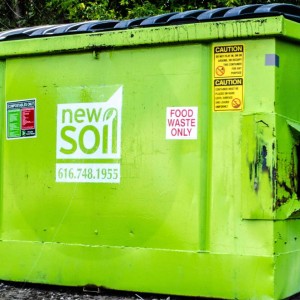 New Soil, a division of Arrowaste, Inc, is dedicated to increasing the longevity of our planet. New Soil provides the only commercial composting service in the Grand Rapids area. At New Soil we try to protect the environment in every way possible, composting is just one way. Composting isn't just about protecting our environment, but it is also about supporting the local farmers that provide you with your fruits and vegetables every night.
We'll partner with your zero waste initiatives to help provide a future you and your children can be proud of. Contact us today with any questions, or to set up your own personal waste program. To learn more about New soil, you can visit, new-soil.com.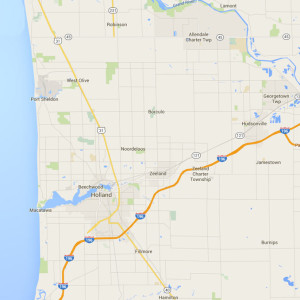 ALLEGAN COUNTY: Allegan, Burnips, Dorr, Douglas, Fennville, Hopkins, Martin, Saugatuck, Shelbyville, Wayland
KENT COUNTY: Ada, Cascade, Cedar Springs, Caledonia, Comstock Park, East Grand Rapids, Grand Rapids, Grandville, Kentwood, Lowell, Rockford, Walker, Walker and Wyoming
OTTAWA COUNTY: Allendale, Holland, Grand Haven, Georgetown, Hudsonville, Jenison, Lamont, Marne, Spring Lake, West Olive, Zeeland
MUSKEGON COUNTY: Muskegon, North Muskegon, and Norton Shores