Arrowaste makes recycling easy for both residential and commercial customers. For businesses, we offer recycling dumpsters, making it easy and painless for your company to go green. For your home, we make recycling as simple as possible. Let us do the sorting!  Simply place all your recyclables in your cart at the end of your driveway each pick-up day. Learn more about both of these options below.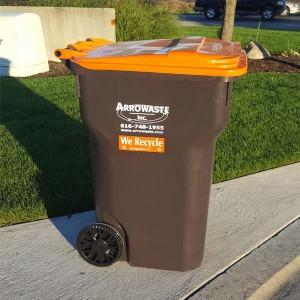 At Arrowaste, we believe recycling at home should be simple and convenient. We supply residential customers with a 96 gallon wheeled cart for recycling. The recycling cart has an identifiable orange lid for easy sorting of your trash and recyclables. The cart also gives your curbside service a clean and uniform look.  Recycling at home in West Michigan doesn't get much easier.
Once you have your recycling cart, simply dispose of all of your loose recyclable material into the cart and bring it to the curb on your recycling day! We'll take care of the sorting.
The following material can be combined in your single recycling container (click here for a complete list of what can and cannot be recycled)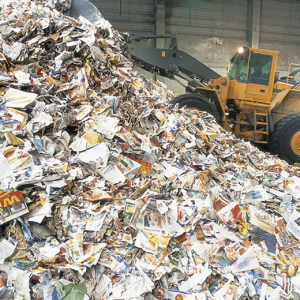 For businesses, Arrowaste offers customers a lot of options. You can see some of those options below, or if you'd like, we will set you up with an account manager to assess your businesses needs!
Whether you have a consistent amount of recycling or an inconsistent amount, we will set you up with a program designed for your business. You can call us today at (616) 748-1955 or request a quote below to start your recycling journey with Arrowaste. Here are just some of the options that we provide business owners.
Corrugated cardboard recycling service with 2 yard, 4 yard, 6 yard and

8 yard containers (click here to see what the various sizes look like)

Corrugated cardboard compaction recycling service, you can choose from a

6 yard

compactor all the way to a 42 yard

Corrugated cardboard balers and bale pick-up service

Wood and pallet recycling

Glass, metal and plastic recycling

Scrap metal recycling